Countdown to the Cloud
As more organizations continue to transition JD Edwards to the public cloud, processes become more streamlined and efficient throughout the enterprise. They are able to be more strategic, innovative and take advantage of the latest software versions in a short period of time. In addition, organizations can reduce large capital expenditures on hardware refreshes and can redeploy that capital to teams that can provide greater insights and tools to decision makers.  
Do you have the right strategy and roadmap to effectively migrate your JD Edwards applications to the cloud?
Chart Your Route to Improved Productivity and Reduced Costs
If you're unsure where to start your JD Edwards migration to the public cloud, WhiteLight Group offers an end–to-end solution that begins with your assessment phase and moves to continuous cloud managed services or managed services. 
We know the level of detail and planning is required for executing and managing a successful migration.
We'll consult with you and develop a step-by-step customized strategy that meets all your needs and timeframe. 
Our goal is execute your cloud strategy, no matter how large or small, without disrupting your business. We prepare for the unexpected, maximize availability and make sure every bit of data is where it belongs after the migration. By using the latest tools and technology, in partnership with our proven methodology, we can conduct an Oracle JDE cloud migration that helps your business transition to a more effective long-term strategy. 
Sign up for your Countdown
to JD Edwards Public Cloud Migration Assessment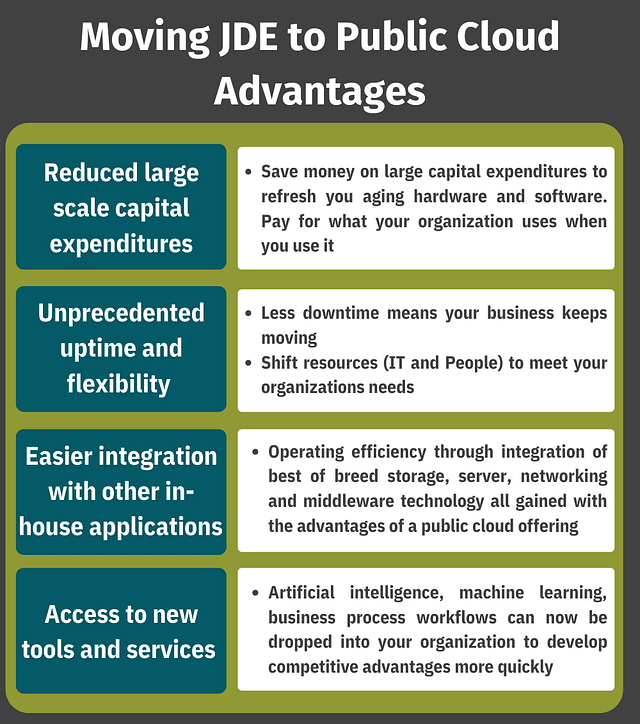 What to expect
We know that your journey begins with a clear understanding of where you are today. In this FREE 4-hour assessment, our team will take the time to understand your current on-premise solution to ensure that we identify the most ideal migration path and operating solution for your new cloud environment.  
To deliver a successful cloud migration journey, barriers ranging from the long-lasting effects of COVID-19, to lack of internal public cloud skills, to your infrastructure complexity must be overcome. We help you navigate through these challenges.  
Using our Pre-Launch Checklist, you will chart your course to begin executing your JD Edwards Cloud Strategy.  
To set the course for your Public Cloud Migration Strategy, we will help you fill out your Pre-Cloud Launch Checklist during our Free 4-Hour JD Edwards Public Cloud Migration Assessment. 
Solution
At the end of the four hours, the customer will have is a readiness score that will serve as the guidance for their public cloud migration strategy and outlines where they believe their business is currently at and needs to work on. We can come in and start to organize the companies position and set them up to start the process in more detail.  
Areas where we will perform the assessment: 
The

environment mapping (deploy tool to perform analysis) 

 

In depth financial costing excercise

 
Other Considerations
IT

Infrastructure

and Services

Complexity

List providers both in-house and external

 

Business applications

in need of modernizing and/or re-architecting

to receive all the benefits of being cloud-native

List the

applications

that

need updating to be compatible with cloud environments

 

Current Environment,

Network and Connectivity,

Workload and application dependencies

. It important to assess applications to determine the readiness for migration and the most suitable mi

g

ration strategy for each workload. 

 

Network and connectivity

architecture to consider within your JDE

(

all of

these objectives can be met by moving to the public cloud)

Disaster Recovery

can be

incorporated in your cloud

solution 

in case of any unforeseen events that would require you to failover and

still keep

JDE up and running.

 

Cloud Migration will inevitably involve the retirement of some hardware.

It is imperative to ensure that any stored data is secured to avoid exposure

and risk data bre

aches

 

Design

ing the cloud environment landing zone will be your first real move to the cloud environment

 

Testing your first application in the public cloud

.

This is where your pilot begins.

Once ready, you should deploy a landing zone in your chosen cloud environment

.

 

Learn how to determine a manageable timeline

When do you want your first application or group of applications in the cloud?

 

One of the factors used to determine

your timeline

is the advantages of the specific tools offered by each provider

potentially making your cloud migration faster

. 

 

Cloud migration may not mean less work

 

For on-going oversite once you are migrated to the public cloud, r

eview your current IT staff

skillsets to ensure that they are adequately upskilled and retrained

 

 
The Right Time

To

Migrate JD Edwards To

The

Public

Cloud
If a cloud migration is mapped out correctly and effectively before making any major decisions, many barriers to the cloud can be lessened or removed entirely.
While the process of migration may seem challenging, maintaining a legacy system that utilizes resources inefficiently and fails to meet current and future needs presents a number of challenges as well. To identify the right time to migrate your JD Edwards application to the cloud, we created a solution brief that contains: Ideal times and situations for a JD Edwards cloud migration, benefits of migrating JD Edwards to the cloud for four different scenarios, and common business moments to look for and capitalize on. 
Compare your Options
AWS 
Oracle JD Edwards EnterpriseOne 9.2 is supported on AWS. One of the well known options in cloud services, AWS offers sophisticated options as well as flexibility, scalability, and reliability. AWS promises an uptime equal to or greater than 99.0%. 
Microsoft Azure 
Microsoft and Oracle jointly announced a partnership to enable their customers to migrate and run important enterprise functions across the two products. This includes the ability to run Oracle JD Edwards on Microsoft Azure cloud solutions. Azure promises 99.95% uptime with the caveat of having two or more role instances in different fault and upgrade domains deployed. 
Google Cloud 
Google Cloud is well-suited for any ERP that is on-premise, hosted privately or even currently in a different cloud provider environment.
Oracle Cloud 
 There are benefits to running Oracle JD Edwards on Oracle Cloud. Including rapid deployment options. There are three options for JD Edwards on Oracle Cloud: the trial edition, the multitier edition, and one-click provisioning. All options can increase agility and reduce IT costs in the long-run. Oracle promises uptimes between 99.0%-99.99%.
Sources referenced: IT Pro Portal & Oracle.com  
Get Started Today
We partner with best of breed Public Cloud providers such as AWS, Azure, Google, and OCI. This allows us to architect the right cloud solution for any JD Edwards environment. Call us at 630-750-9558 or contact us by filling out this contact us form and we can schedule you Public Cloud Migration Assessment.