ERP Integration helps businesses and their bottom line.
The most successful organizations leverage integration technologies such as Dell Boomi and REST APIs to increase business agility, minimize risk, and better manage growth. With ERP integration, organizations can join together it business applications and data.  It eliminates data silos, application sprawl, and the blind spots that often exist with unconnected systems.
ERP data integration provides a single point of access to information that's created in different departments. With ERP integration, your business gets real-time access to the information needed to make confident business decisions including improvements and corrections.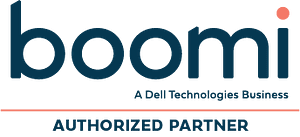 As a Dell Boomi Partner, we help organizations develop an integration strategy that addresses the needs that arise from disparate applications and connect fragmented data from legacy systems and various applications via the Boomi Connector. Unlock your data with Dell Boomi to reach digital transformation.
Our integration services include: ERP and CRM Systems Integration; RESTful Integrations; Quote to Cash Configuration; and Direct Database Integrations.
Read our blog to learn more about ways that you can begin to "unlock" your data with ERP Integration.