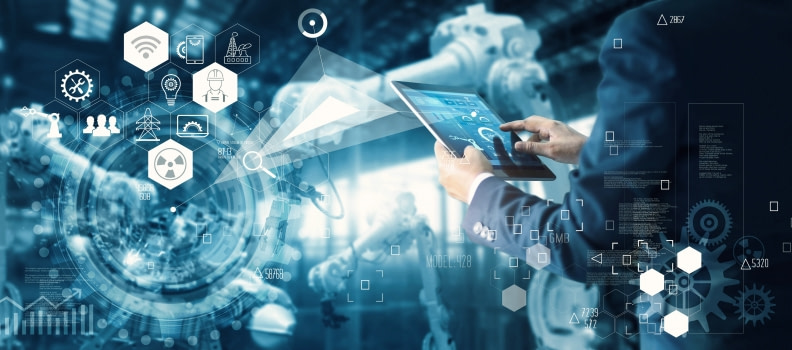 January 2, 2020

whitelight
Robotic Process Automation (RPA) uses software with artificial intelligence (AI) and machine learning capabilities to handle high-volume, repeatable tasks. RPA technology uses software robots that can imitate human workers in certain situations. This can save time, energy, and money, along with reducing human errors. However, automation is not good for all business processes. Depending on where a company is in their digital transformation journey may determine what works for them and what doesn't.
Why automate business processes?
Workflow automation isn't a new thing. Humans have been finding ways to automate their work for thousands of years. About 4,000 years ago, the Mayans needed a way to quickly and efficiently transport water, so they built aqueducts.
Today, the rise of technology, robotics and AI have brought more and more opportunities to automate work. Now there are apps, programs, software, and robots to speed up and simplify the work process. This enables employees to focus more on their products and customers.
What differentiates RPA from traditional IT automation is the ability for RPA software to be aware of changes, interpret the actions of specific processes in existing software and adapt to different circumstances in real-time. It can then manipulate data, trigger responses, initiate new actions and communicate with other systems autonomously.
How does robotic process automation improve business processes?
Gain better transparency and control
Collect all parts of the workflow into a single dashboard, allowing you to see processes in their current stage
Manage task reviews, approvals, access, and timelines
Streamline information gathered in the workflow, giving you the ability to make informed decisions
Ensure business operations and processes comply with regulations and standards
Speed up processes and reduce manual errors
Replace manual, administrative, and paper-based tasks, saving time and energy
Reduce human error
Make room for building relationships and creative output
Enable better customer experience
Better organize business process
Takes care of the "robotic" tasks, freeing you to focus on higher-level tasks
Areas Where RPA Works
Rote and repetitive tasks
Reducing manual work on predictable tasks can reduce human error and allow tasks to be done uniformly. This also saves time, eliminating the need for employees to perform repetitive tasks. The following tasks can be managed with automation:
Paperwork
Email
Data entry
Automated project management task and status software updates
Time tracking
Decision-making that is machine addressible
A good example of RPA would be applying for a loan. Before automation, a bank employee would have to spend time and energy looking into the customer's background and credit history to see if they qualify for a loan. Now, robotic software is able to perform background checks and gather the information needed for the bank employee.
Self-service employee portals
An automated system can register changes employees make and track progress without trainers or HR people. Employees are able to:
Make changes to their 401k investment options
HR elections
Take online training courses
IT back office processes
Automating nighttime data center operations and batch processing eliminates the need for most nighttime IT operations staff. An auto alert system calls staff in a case where human intervention is needed.
Research
Automated databases have the ability to replace functions that were previously done by humans. Research repositories tapped with robotic business processes include:
Crime records
Legal case law
Life Science research
Weather and climate research
Insurance and financial risk analysis databases
Manufacturing/engineering parts cross references
Healthcare records and demographics
Document management
Robotic Process Automation can orchestrate electronic requests, signatures, approvals, and archiving into a paperless window.
Where RPA Doesn't Work
Decisions humans need to make
Decisions that involve critical thinking or that deviate from the business' normal pattern are best made by a human. A robot is not equipped to think outside of its programming, so a human is needed in case such a situation arises.
Language translation
Different dialects, accents, and enunciation can make language translation not 100% accurate, potentially causing errors in the business process.
Ways to Build Automation into Workflows
Define specific automation goals
Automating a business isn't something that can happen overnight. Using change management best practices, review your business goals and processes before investing in automation. Implement the automation in phases and measure against the expectations set. If the expectations aren't met, pull the plug.
Train employees in the automation process
RPA can change the entire work process, so it's essential to train employees in the new process. This takes time and money, but pays off in the long run in terms of efficiency and productivity.
Always have a human failover option
Robots lack the critical thinking and intuition that humans have. They can fail or malfunction, so it's necessary to have a human on standby in case things go wrong.
C-Level Considerations
Although automation software is expected to replace up to 140 million full-time employees worldwide by 2025, many high quality jobs will be created to manage and improve the process workflows automated by robotics.
Ensure expectations on business outcomes and risks are measured and new governance policies are met.
CTO/CIO must take a greater leadership role and assume accountability for the risks in RPA tools deployment
Collaboration within the entire C-suite is imperative for successful roll outs of RPA initiatives.
Want to Automate your Business Processes?
We can help with that. We help enterprises automate workflows and business processes throughout their organization. We give you the tools to adapt quickly to the changing needs of your business. Connect with one of our automation team members today to learn more now.
[mk_button icon="mk-moon-phone-2″ url="https://whitelightgrp.com/contact/" align="center"] Contact Us[/mk_button]