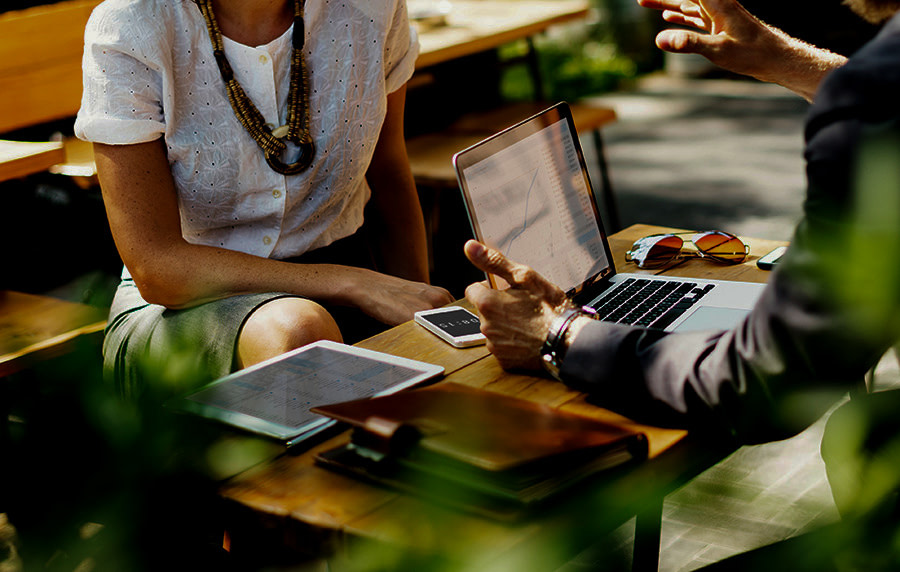 November 26, 2019

whitelight
Here is an easy to follow breakdown of all of the enhancements that Oracle JD Edwards EnterpriseOne 9.2 Update 4 brings to a digital enterprise. This update includes Orchestrator enhancements, improvements in user experience, operational simplification features, and updated platform certifications.
Digital Transformation
Redesigned Orchestrator Studio
The Orchestrator Studio has been redesigned to both simplify the process for nontechnical users and provide technical users the ability to create complex orchestrations. The new Orchestrator Studio has the following enhancements:
Top-level access to all orchestration components upon launching Orchestrator Studio home page

Graphical flow view of orchestrations

Run orchestrations directly from the Studio; signing on to a separate Orchestrator Client tool no longer necessary.

Sorting and grouping: Orchestrations, notifications, and their subcomponents can be arranged in groups and sorted.

Nested import and export
New Orchestrator Scheduler User Interface
The Scheduler provides powerful process monitoring and automation functionalities. The Scheduler user interface provides these features:
A single click to start and stop a scheduled job: The new user interface lists all orchestrations and notifications with schedules associated with them, along with a toggle button to start and stop scheduled jobs.

Monitoring of scheduled jobs: The user interface provides metrics and status information about scheduled jobs.

Autostart: The user interface provides a toggle button to indicate whether a job should be started when the Application Interface Services (AIS) server is restarted.
One View Watchlist Enhancement
One View Watchlist now has an option to mark a Summary Row in an application. This feature provides more accurate results in watchlists, enhances alerting and reporting capabilities, and generates notifications based on watchlist criteria. 
User Experience
Form Extensibility – Associate Orchestration Support on Grid:

Orchestrations can now run iteratively over each selected row in a grid and map the output back to both header and grid fields.

Personalization – Form Security: The system administrator can now protect the form personalization by restricting access to the base form.

Color Coding of Environments: System Administrator can now set color schemes for each environment (Production, Test, and Development).
Operational Simplification
Simplified Deployment and Security of Orchestrator Studio
Orchestrator is now easier to deploy, maintain, and secure.
Simplified deployment process: Orchestrator Studio is now deployed as a component of the AIS server and is available through a URL endpoint to that server

Orchestrator Studio certification on IBM WebSphere Application Server: Orchestrator Studio is now deployed as a component of the AIS server, including the certifications of Oracle WebLogic Server and IBM WebSphere Application Server.

Simplified Security: Secured Access to Orchestrator Studio is now aligned with the standard JD EnterpriseOne application security model, eliminating the need to add users to an AIS white list.
Scalable Elastic Deployment
A new white paper describes how customers can leverage Oracle Cloud Infrastructure Autoscaling for Compute Service with Container technology. This paper describes the mechanics of using the autoscaling feature in Oracle Cloud, how this technology is leveraged with container technology, and the elastic unit concept to provide a scalable versatile solution for an EnterpriseOne architecture.
Terraform Stage Server Image on OCI Marketplace
The Terraform Stage Server on the Oracle Cloud Marketplace replaces manual steps and reduces setup time by accelerating the provisioning of the JD Edwards reference architecture.
Deployment Server 64-bit Enablement
Customers can now migrate their entire JD Edwards environment to 64-bit.
There are now additional tools to manage customizations in UBEs, table indexes, and business views. Customers can compare specifications for UBEs to assist in retrofits, along with being able to compare and merge customizations that have been made to business views and table indexes.
Support of File Path Encryption for Downloads
Encrypting the FILE_PATH parameter with a site key when writing the URL and decrypting the parameter before downloading a file is now possible for artifacts such as media objects, report definitions, and grid exports.
Platform Certifications
Database 19c

32-bit and 64-bit JDE on Linux

32-bit and 64-bit JDE on Windows

32-bit JDE on Solaris

Oracle JET 7.0.1
Application Enhancements
Customer-Driven ERP Enhancements
Customer-driven ERP enhancements continue to build on the existing applications available. 
Financials
JD Edwards now supports the joint venture process for managing partners for joint ventures. JD Edwards Joint Venture Management allows managing partners of a joint venture to:
Define joint ventures

Specify date-effective percentages of ownership

Calculate overhead charges

Allocate indirect costs to the joint venture

Calculate each joint venture's pro rata share of cost and revenue

Manage cash calls

Pay or bill partners for their share of expenses and revenue

Provide financial reports for the joint venture
Option to Restrict Payment to Posted Vouchers
Accounts payable users can now ensure that only posted vouchers are selected for payment, ensuring compliance with finance department requirements.
Voucher Withholding Tax Calculation Flexibility
Companies with complex accounts now have a simplified method of defining how withholding tax is calculated.
Balance Sheet Lessee Accounting
Accounting standards for lessees may require that the leased asset be accounted for on the company's balance sheet. JD EnterpriseOne now supports:
EnterpriseOne now supports the management of multicurrency leases, with Lease Liability account gains or losses and revaluation of the Right of Use asset account.
Lease Administrators have additional control over the termination process, including methods to initiate an early termination and controls to ensure a lease can't be terminated if accounting entries extend past termination date.
Human Capital Management
Changes and Corrections to Pennsylvania School District Codes
Pennsylvania employees now have a simplified method of making changes to work and resident PSD codes:
Ability to View Full Social Security Number in Employee Master

Flexibility in Populating Effective On Date in Quick Hire

US Equal Employment Opportunity (EEO-1) Updates for 2019 (World and E1)

Australian Tax Authority Updates for 2019-2020 Tax Year
JD Edwards EnterpriseOne Australian Payroll supports the combined HELP and SFSS tax components for the 2019-2020 financial year tax obligations.
Manufacturing
Copy Bills of Material by Branch/Plant
The process of setting up a new manufacturing plant is now streamlined by the Copy Bill of Material by Branch/Plant program which can be used to copy bills of material from one branch to another.
Order Management
Record Reservation for Print Delivery Note
Record Reservation now enables applications and batch processes to run simultaneously.
Sales Proposal Generation Simplification
Oracle BI Publisher can create templates and generate output that is consistent with other types of report formats.
Localization Updates
Argentina – General Resolution AFIP 4245/2018
EnterpriseOne processes have been updated to provide flexibility to configure withholding percentages.
Brazil – Annex IV of the Registered Nota Fiscal Information
EnterpriseOne processes used to create the XML output for the Nota Fiscal invoice have been updated.
European Union – eInvoice for Accounts Receivable – XML Response Consumption
EU countries can now define a country-specific version (CIUS). 
European Union – Customer/Supplier Balance Report Updates
The EU Customer and Supplier Balance Report provides information about customer and supplier transactions and current balances.
India – GST Electronic Tax Invoice Reference Number
An electronic infrastructure has been developed for updating Goods and Services Tax (GST) invoice information to the Goods and Services Tax Network (GSTN) government portal.
Japan – Emperor New Era Name
The new era name applies to all the industries operating in Japan.
Poland – JPK Audit File Modifications 2019
The Ministry of Finance published an updated version of JPK_VAT Invoices Register Block. The most significant changes are related to reverse charge and export transactions. 
Taiwan – e-GUI (Government Uniform Invoice) 2020
The Ministry of Finance is replacing the current Computer Government Uniform Invoice (c-GUI) with the Electronic Government Uniform Invoice (e-GUI)
How can we help? 
We connect you with the latest release of JD Edwards EnterpriseOne to discover better and more efficient ways to compete in the digital economy. We can help you confidently plan your business future. With Premier Support for Oracle JD Edwards, your business can leverage the latest advances such as Continuous Delivery and a predictable, long-term support policy. This partnership emboldens you to confidently plan your technology investments and business future. Contact us today to begin leveraging the update.