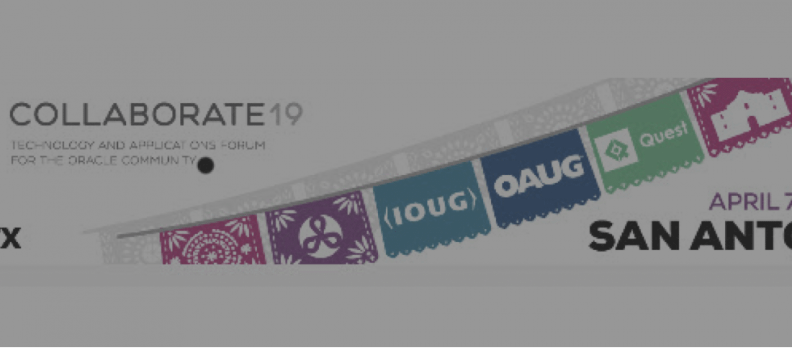 April 25, 2019

whitelight
After hopping off their dockless scooters one last time and saying goodbye to San Antonio, our JD Edwards team sat down with us and shared some of their thoughts and key takeaways from Collaborate19.
What would you say was the anthem at Collaborate this year?
Anand Ranganathan: Imagining what's possible! By getting to the newest release of JD Edwards and taking advantage of the latest advances in the JD Edwards Orchestrator and UXOne, customers will begin to see a better way forward.  No longer will IT be a constraint to adapting to the changing business landscape.  Customizations can be identified and eliminated, IT backlogs can be dramatically reduced leading to a lower TCO (total cost of ownership), and more.
David Klen: JD Edwards EnterpriseOne is an evolving intelligent ERP that can focus on new sources of data and move beyond traditional ERP so businesses can compete in the new digital economy. The new continuous delivery model of JD Edwards encourages innovation and can be found in the current release.
Upgrading to 9.2 is not just a technical upgrade. Applications such as Orchestrations, Mobility, IoT, and UX One are critical to business success and the transformation is only possible once you start.
A great place to support your journey of continuous innovation and improvement is LearnJDE and the Quest Oracle Community for updates, shared customer success stories and use cases. If you missed Lyle Eckdahl's keynote, you can see the full version here.
Which product advancements or new features do you think will have the biggest impact on businesses today?
Anand Ranganathan: The Tools Release 9.2.3.3 digital transformation features which benefit 9.1 and 9.2 releases include framework enhancements, new Orchestration capabilities, extensibility framework enhancements and updated platform certifications.
David Klen: The new customer-driven ERP enhancements continue to build on extensive business applications that are already in JDE EnterpriseOne. They enhance the user experience, provide new business logic, and simplify business process. Joint Venture, Financials (delinquency notices, ISO code updates, HCM, Localizations, Enhancements to Orchestrator.)
[mk_blockquote font_family="none"]During his keynote, Lyle Eckdahl said, "It [Orchestrator] is a profound and significant enhancement to the application suites because it transforms how the JDE system is used and how the data is collected." Customers can move away from manual data entry and increase the value of the data itself.[/mk_blockquote]
Did you have a favorite session?
David Klen: Bring it On Thrill Users and IT with UXOne presented by Angela Anyeart, Senior Director, Product Development, Oracle Product Development. UXOne addresses the business needs of the User, Developer and IT.
UXOne allows you to reinvent the User Experience by empowering them to take control of their own experience with role-based landing pages and get more work done faster. Using Orchestrator as the gateway to digital transformation, the Developer can build apps faster. And, IT can eliminate unnecessary mods and is no longer blamed for holding adoption back.
Anand Ranganathan: 
JD Edwards Tools-The Roadmap to Future Innovation and Success presented by Jeff Erickson, Sr. Director, JD Edwards Product Management laid out the benefits of JD Edwards Digital Platform which continues to drive automation with low code, no code and provides the benefits of reducing manual processes, compressing processes, eliminating errors and future proofs the business.
Using Orchestrator as a gateway to digital transformation, the internet of things, improved user interface, process simplification and integration enables the ERP business to compete in the Digital Economy.
Anand Ranganathan and David Klen: 
And finally, we want to thank everyone who stopped by our booth and spent time with us sharing their stories about what's possible in their business with Orchestrator, eliminating customizations and continuous adoption & improvement.
With the continuous innovation in JD Edwards, we can say, "There is a better way to do this in JD Edwards."  So, let's continue the conversation and see what's possible. Reach out to us and we help you reach your goals.
Meet Our JD Edwards Experts
Anand Ranganathan, Director of Technology, WhiteLight Group
Anand leads WhiteLight Group's Technology Innovation/Solution Architecture team and the Managed Technical Services team.  A Senior Technology Executive with experience in technology operations, strategic staffing, process optimization, and business applications, Anand provides technical thought leadership to organizational leaders tasked with implementing technology portfolios aligned with business goals.
David Klen, Director of JD Edwards, WhiteLight Group
David leads WhiteLight Group's team of Project Managers and Consultants who bring a deep range of JD Edwards expertise to our customers enabling digital innovation. An experienced Information Technology Executive with demonstrated successes in delivering solutions that solve business problems and enable business strategies. David has more than 25 years' experience managing and directing the development, implementation, and maintenance of business applications in a global environment. An expert in the delivery of software applications to enable business growth and lower unit cost on a global scale, David has expertise in leading software evaluation, selection, and implementation of solutions.