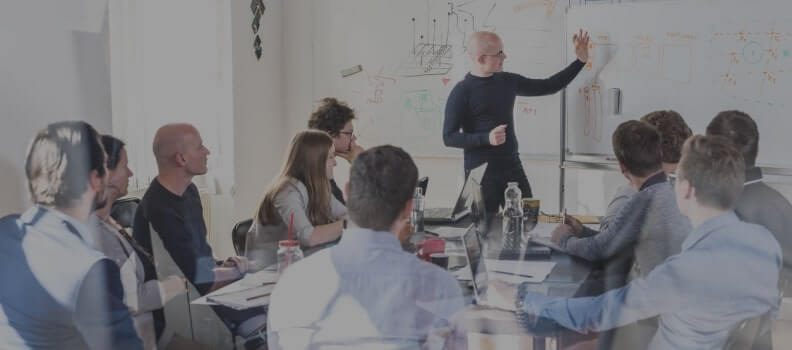 You must consider your organization's structure, people and processes in order to be cloud ready.
As it enters its second decade, cloud computing is increasingly becoming a vehicle for the modern digital business, as well as for agile and scalable solutions.
In fact, Gartner predicts that by 2021, more than half of global enterprises already using cloud will adopt an all-in cloud strategy.
Moving to the cloud requires careful assessment and planning, strong change management and ongoing optimization. Your entire organization needs to be realistic in setting goals that align your cloud strategy with your overall business strategy.
You'll need to:
Define your organization's structure
Evaluate current processes
Transform your people to get them cloud-ready
Define your organization's structure 
Structure follows a framework by which an organization communicates, sets goals and then works on achieving those goals. Like any new integration of technology, it's important to factor in performance–not only how it affects strategy but other areas like stability, workflow, life cycle and corporate culture.
Organizational structure is key to consider due to:
Size, global spread and complexity of the modern business.
Expanding markets, new competitors, increase of products and the need for "anytime, anywhere."
Relationships, both internally and externally.
Since cloud constantly changes, a company culture of quick adaptability is key to success. Are you ready to deal with a rapid pace of change? If your company is currently running on legacy infrastructure or tools, and most employees are fine with that, then there will likely be some resistance resulting in a slower pace of change. Not all companies, or employees, are ready to deal with learning new things at a fast pace. You will need to seek out why certain employees are resistant to change and decide how to best manage large scale changes quickly, which could include extensive training, retooling or turnover.
Evaluate your organization's processes 
This is your opportunity to zero in on weaknesses within your company's processes and identify inefficiencies such as duplicate task work, poor performing assets or need for extra training. Through this assessment, you should be able to find ways to streamline business operations and improve decision making.
What do you want your IT to deliver, and is the cloud the best route for all workloads?
Not all applications and processes will benefit from being migrated to the cloud, possibly because they process extra sensitive data or performance might suffer. This when you should consider a hybrid cloud solution that links both on premise and off premise assets to take advantage of cloud benefits, while protecting sensitive data on a local server or other traditional infrastructure.
Remember to think holistically when determining where cloud applications and services make sense in the overall infrastructure.
Transform your people and get them to the next level: Cloud 
"Tell me and I forget. Teach me and I remember. Involve me and I learn." – Benjamin Franklin
For the average IT team moving toward cloud computing, there are a variety of mindsets to prepare for from both the high-level mindset, as well as the specific IT roles that need to be developed. IT leaders must equip their teams with the ability to efficiently and effectively procure cloud technology.
Your IT team may find it more useful to cross-train individuals to better support converged compute, network and storage resources. New processes might involve better ways to evaluate or monitor resource utilization and resource needs for applications.
Don't be afraid to give people new roles! Sometimes giving people new roles can help them overcome their resistance to change.
New roles for cloud may include a cloud security specialist who keeps up you out of trouble, or a cloud developer who can experiment and innovate with applications. Most importantly is the role of cloud architect, who decides on specific platforms, models and technologies to fulfill cloud requirements.
The adoption of cloud computing is a multidimensional, multiyear program that needs at least one cloud architect to lead the organization through the transformation.
Cloud architects have three main responsibilities: 
Lead cultural change for cloud adoption
Develop and coordinate cloud architecture
Develop a cloud strategy and coordinate adoption
If you don't hire or select a cloud architect, it's likely you will end up adopting cloud services through ad hoc processes that lead to issues, frustrations, duplicate work cycles, general inefficiencies or unnecessary risks. Your organization will greatly benefit from appointing one responsible party to help smooth the process.
Build a cloud adoption learning plan
You will need to develop an organized cloud adoption learning plan, or curriculum, your people can follow in order to broaden their skills and see how their contribution fits into the big picture. Components of this cloud adoption curriculum could include:
Education requirements – what kind of skills and certifications they might need to have. Set time-based and goal-based learning to reinforce your cloud strategy and produce the behavior you want to develop.
Immediate application – topic-related assignments for employees to take on directly after they take cloud training. It's best to start them on something meaningful to the business—yet basic.
Growth assignments – newly educated employees need to have the chance to apply their fresh skills to real-world tasks. This helps ensure knowledge is reinforced and made relevant.
Encourage experimentation – give your teams the freedom to implement existing projects in new ways. Innovation comes from experimentation!
Participate in industry events – encourage your teams to get out there, see what others are doing in the space and build an industry network.
Once you figure out what works in your organization, you'll be able to develop your own brand of training. Your objective for moving your people to the cloud is to ensure clarity, understanding, stability and adaptability.
Change Management in the Digital Era:
Basics of change management and how to define your vision
Key considerations to take before undergoing a major change
Steps on how to manage change effectively and keep employees on track
Tips for planning and executing major changes
Modernizing Today's Business with Cloud:
Cloud ERP vs. on-premise ERP comparison
Security considerations
How cloud ERP enables operational efficiency with real-time analytics
Questions to ask a potential cloud service provider
Cloud predictions roundup from influencers
About the Author: Anand Ranganathan, Director, Cloud and Managed Services at WhiteLight Group
 Anand Ranganathan, a Senior Technology executive, provides thought leadership to organizational leaders tasked with implementing technology portfolios aligned with business goals. He has served in various IT leadership roles in companies of varying sizes. As a certified Project Management Professional (PMP), Anand has experience managing cross-functional teams, external and internal partners, and budgets. He uses his consulting background to help his customers in ERP implementations – new and existing, both in the cloud or on-premise, with considerable success. Anand is also instrumental in the creation and management of weekly knowledge sharing seminar at Venture Technologies, focused on new and emerging technologies. Anand has a Master of Science in Mathematics:Computer Science from Minnesota State University in Mankato, MN.