January 7, 2016

whitelight
It's hard to believe that an outdated, five-year-old ERP system can be relevant to a business in the modern world in which last year's smartphone is old news. The rapid speed at which change evolves today places major stress on business processes. Employees and customers expect to engage with business systems how they want to, whether it's accessing order information from a mobile device or checking real-time application performance. Running an ERP system that is only upgraded every four or five years is not enough to take advantage of change and hold a competitive advantage.
How do you know that your ERP systems are aligned with your business imperatives? By measuring how much of your IT budget is devoted to innovation rather than maintenance. Unfortunately, an old ERP system will drain innovation from your IT budget.
Another important consideration is how you cope with increasing regulatory changes. Whether for data protection, financial regulation or information security, outdated ERP systems typically require time-consuming patches or additional manual processes.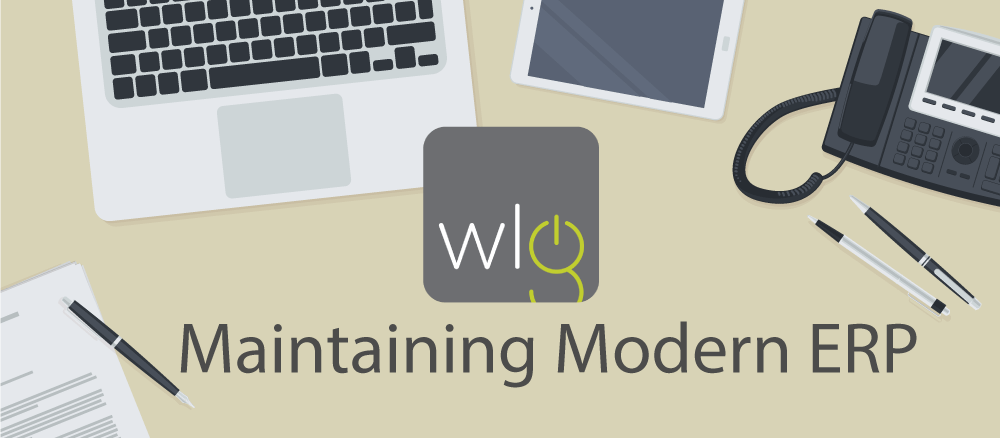 Before you commit to your ERP system, make sure you have the right software to align with your business strategy. Do your research to discover which systems will meet both current and future needs.
Ask yourself:
Does the ERP solution offer flexibility in terms of deployment and architecture?
Does it allow for future expansion and manageable costs?
Is it easy-to-use and intuitive?
Do I have to access application behavior, workflows, analytics and reporting?
Are my users engaged or frustrated with the experience?
Are my current requirements and future triggers well defined?
Is my organization open to change?
Is the technology open and standards-based?
Are my vendor(s) committed to modern ERP?
Am I incorporating cloud into my strategy?
With the proliferation of hosting and managed services options, most companies are taking advantage of them and not dealing with infrastructure at all now.
Cloud ERP frees businesses from the inflexible and change-resistant ERP of the past. With the cloud, businesses can run an ERP that is "version-less"—meaning that businesses get the latest innovations automatically, from new features to support for the latest regulations. No more waiting, no more costly upgrades, no more upgrade risk. No more outdated ERP.
It's not uncommon to find growing midmarket companies still patching their financials together on a mix of spreadsheets and QuickBooks. Oracle, for example, had a tough time in the past selling ERP to smaller midsized companies that didn't have the IT staff or data center needed to run ERP on-premise. Now, growing companies can tap Oracle's complete suite of cloud apps, since all they need is a network and a browser. Cloud ERP is currently Oracle's fastest-growing SaaS application suite.
Oracle JD Edwards is the leading ERP software suite of pre-integrated business applications, with extensive core, operational, and specific industry functionality for organizations of any size. By preparing and aligning systems, JD Edwards is helping its customers move to the cloud easier.
As an existing JD Edwards customer, keeping your software current through regular upgrades enables you to take advantage of new application functionality, user interface capabilities and mobile applications. Staying current also better prepares your systems and people for the cloud. JD Edwards customers are cutting costs as a result of adopting a cloud deployment model as their ongoing operating model by leveraging providers such as third party hosting providers or Oracle Managed Cloud services.
For the prospective JD Edwards customer, you have a few options:
1) Purchase hardware and software, and deploy in a traditional, private cloud hosted on-premise.
2) Purchase hardware and software, and deploy with a third party cloud-hosting provider or with Oracle Managed Cloud Services.
3) After choosing a hardware option as described in 1 or 2, rather than purchase the software, subscribe to JD Edwards software on a per-user-per-month basis with low upfront cost.
JD Edwards has committed to deliver new product releases from now until 2021, with one major release every three years and minor updates in between. A properly configured and tuned EnterpriseOne 9.2 environment will position your company to plan ahead alongside the designated roadmap.
Establish a clear view of business requirements and the business' evolving strategy. Ensure which current and prospective solutions "future-proof" the business. Align all business needs with architectural components to establish transition plans.
Implement or upgrade to current release. It's time to eliminate modifications and leverage approved, supported extensions and applications.
Collaborate with vendor(s). Together, set proactive alerts for upcoming updates.
Establish your change management strategy and approach.
Maintain detailed business scenarios and scripts.
Develop change management and testing procedures. Leverage automated testing tools (OATS) and user training tools (UPK).
Regularly apply patches and updates.
Apply version upgrades as available.
Leverage cloud applications where appropriate. They are inherently current, flexible and scalable.
In the end, it all comes down to your company's ability to change. If your industry is relatively stable—the utilities, chemicals, public sector, and manufacturing sectors—and you can manage the rate of change through incremental improvements, then the path for ERP evolution is simpler. You may either optimize your investments through targeted cost reductions or deliver business improvements through best-in-class extensions. Or, in many cases, do both. The strategy here is to get the most out your assets and drive steady incremental gain in cost reduction or agility.
Making your business adaptable to customer demands and their increasing expectations is part of living in today's modern society. Employee retention and a great customer experience depend on usability and convenience, all key factors in holding a strong competitive advantage. Old systems and archaic ways are only hurting your business in the long run. Stop draining innovation from your IT budget and get current!
WhiteLight Group helps organizations simplify, standardize, and optimize their ERP business processes in the areas of finance, procurement, manufacturing, capital asset management and supply chain. Automation results in smarter business decisions, cost savings and increased revenue. Our consultants are always up-to-date with their JD Edwards certifications and hold extensive experience in EnterpriseOne and World upgrades, implementations and global rollouts.
Attend Collaborate 16! The Technology and Applications Forum for the Oracle Community is where Oracle power users and IT decision makers find practical solutions for today and strategies for tomorrow. WhiteLight Group partner Paul Demes will be presenting Maintaining Modern ERP: The Importance of Staying Current. Learn more here.
Join the ERP Cloud North Americas LinkedIn Group!