December 10, 2015

whitelight
FUTURE-PROOF YOUR BUSINESS.
STAY CURRENT.
Reductions in cost due to streamlined operational processes and improved efficiencies
Effectively manages governance, risk management and regulatory compliance
Gives operations increased visibility and access to data from the plant floor for better decision-making. (Lead times, supply lines and quality can all be compromised without this visibility).
Minimizes business disruption (No more "rip and replace").
Supports greater internal collaboration that can reduce errors and inefficiencies in the manufacturing process.
Enables faster and simpler upgrades.
Enhances revenue opportunities (IoT, big data).
Improves customer experience due to agile responsiveness.
Attracts and retains talent.
While traditional ERP applications have served us well, their built-in limitations, aging capabilities and difficulties linking to 3rd party applications have often left them unable to evolve with changing business requirements. Last year, Gartner declared the meet-all-needs single ERP suite dead. We are now in the postmodern ERP era, where heavily customized ERP systems are being re-architected to serve as record systems with differentiating processes and activities complemented with built-in SaaS applications. Organizations are done wasting time and resources to maintain and update their ERP software and underlying hardware, especially when their IT people can be of better value elsewhere.
There are several approaches to modernizing your ERP to stay current:
Get on the latest release of your ERP software: JD Edwards recently announced the release of EnterpriseOne Release 9.2, providing transformational business solutions for customers to address the demands of the digital economy. Innovative new JD Edwards solutions are facilitating SMART (Strategic, Mobile, Architected for Real-Time) change.
Stop agonizing customizations: Heavily customized ERP is now routinely considered "legacy" (Gartner). A legacy system is not flexible enough to meet changing business needs and you'll have to constantly create patches and "work‐arounds" to keep the system functional. You might implement point solutions for advanced planning, e‐commerce, CRM or other specific needs and invest in custom integration to your aging ERP backbone. That makes a decision to change systems even more daunting.
Move your ERP to the cloud: The advent of cloud computing and software-as-a-service (SaaS) is at the forefront of the current ERP paradigm shift. Moving ERP to the cloud allows businesses to simplify their technology requirements and quickly see a return on their investment. Since security is part of many regulatory requirements, role-based security governs the entire ERP Cloud. Built-in controls make it easier for enterprises to meet compliance requirements, like Sarbanes-Oxley, and operational rules, such as generally accepted accounting principles (GAAP).
Take a hybrid ERP approach by blending cloud point solutions with your on-premise ERP. Depending on your industry, you may decide to only move a single ERP process to the cloud, such as procure-to-pay. Or, you may be looking to move an entire software category to the cloud, such as ERP or HCM (human capital management). In either case, everyone must be clear on the business goals—whether it be analytics capabilities, a superior user experience or leveraging mobile applications to be more efficient.
Companies are already in the cloud, even if they don't realize it. According to a 2014 Gartner survey, almost 50 percent of respondent organizations had a hybrid ERP environment where ERP functionality was delivered through a combination of on-premises and cloud solutions. In a 2015 study done by Cisco, 50 percent of companies said that predictable costs and service is a major driver for ERP in the cloud. At the time, 24 percent indicated they have a strategy focused on moving business functions and applications to a cloud-based service. Finally, 63 percent of respondents said they would be in a hybrid environment within five years.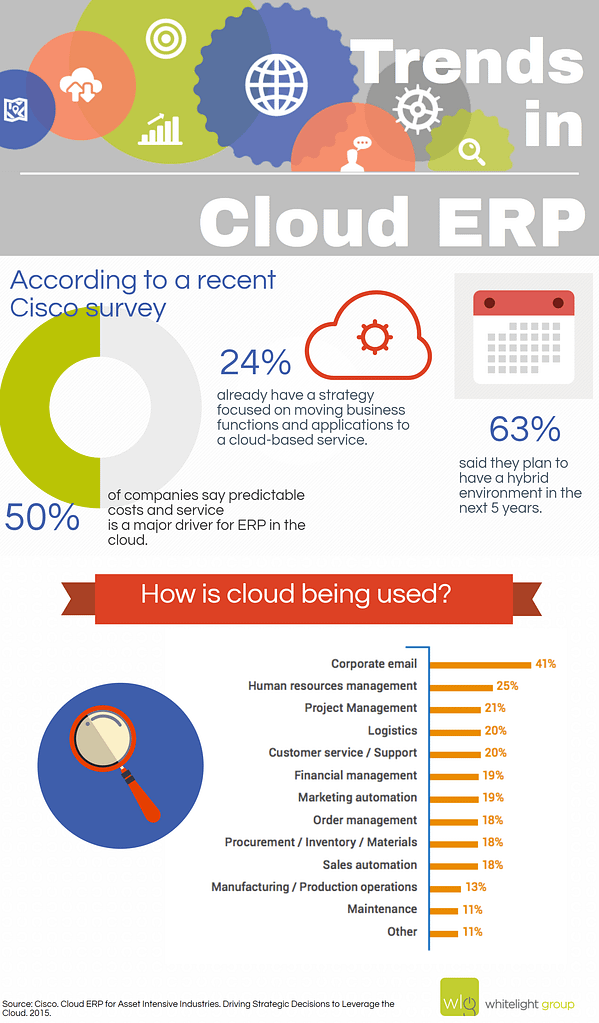 Oracle recently revealed 1300 customers are now using its ERP Cloud, squashing rumors the company is having a rather bleak time of it when it comes to cloud services.
Oracle's government customers are adopting cloud services as a faster, simpler way of modernizing systems. The Kansas City Board of Public Utilities, for example, is deploying smart meters and new software for utilities management, and decided its ERP system needed to keep pace.
"We needed a financial system to take us into the next century." The board had been running PeopleSoft Financials on premises but concluded it was "a good tool for the '80s and '90s but doesn't speak to the issues we have going forward," said Paul Pauesick, director of IT for the Kansas City Board of Public Utilities.
Read how Oracle's public sector customers are taking advantage of what cloud ERP has to offer.
Boise State University is currently migrating to Oracle ERP Cloud, set to go live this coming spring. Jo Ellen DiNucci, the university's associate vice president for finance and administration, said,
"We've made a significant change in mindset away from the mentality of customizing software," she says. "And this means that we have the resources to focus much more on analyzing current business processes and making sure they are as efficient as possible."
Read how Boise State University is using change management best practices to successfully migrate their on-premise ERP to the cloud.
There are several approaches to modernizing your ERP systems in order to future-proof your business. Download our ebook guide Maintaining Postmodern ERP to review benefits, top considerations, best practices and planning tips.