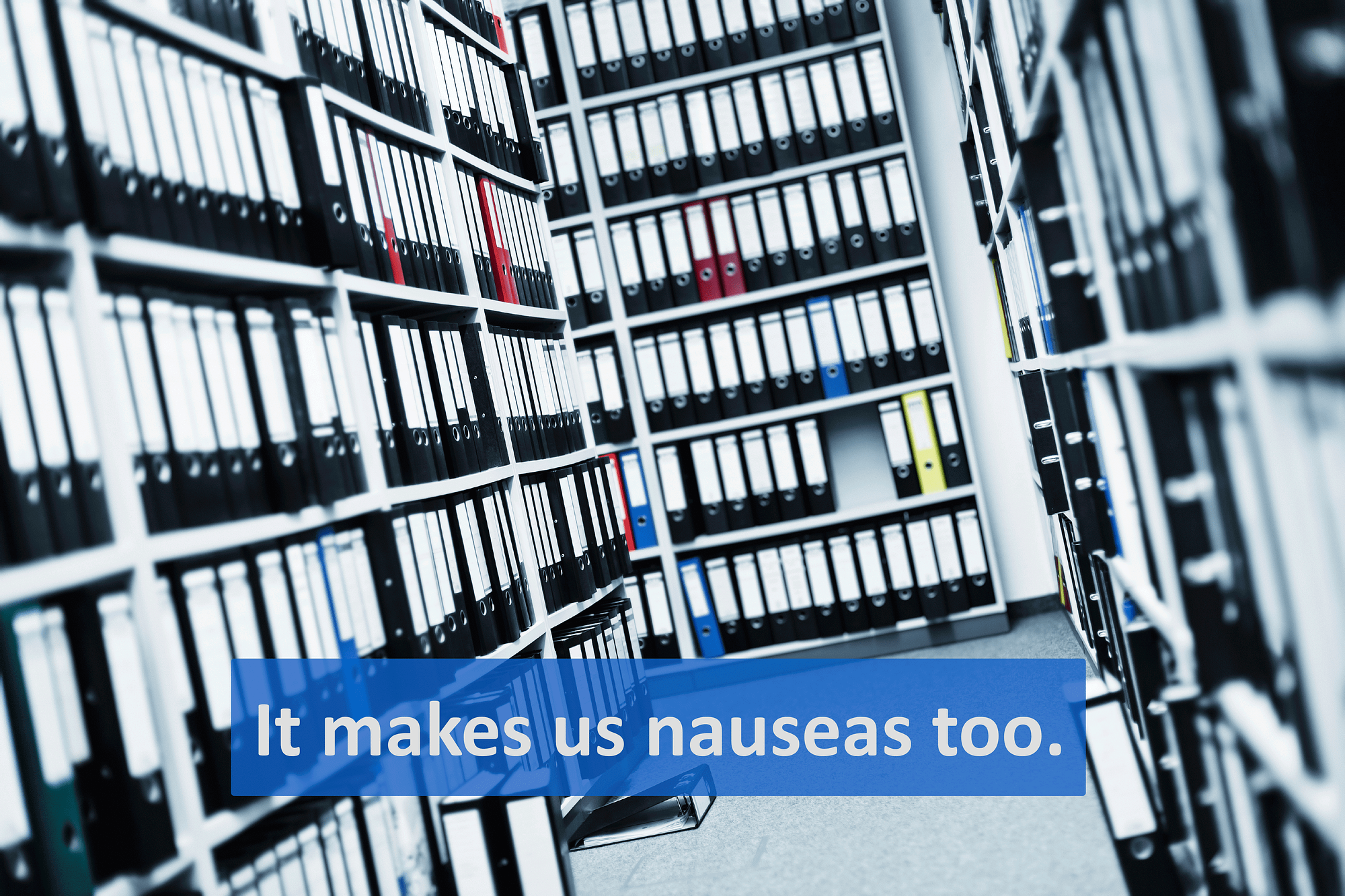 August 31, 2015

whitelight
While paper documents are still being used in most industries and play a crucial role in various business processes, they are difficult to manage. Important and confidential documents, especially, should be securely stored and ready to access by appointed personnel at any time.
As our world becomes increasingly connected, it's even more important that businesses adhere to strict guidelines. Constantly changing compliance regulations continue to alter the way enterprises and institutions manage their processes. This poses a challenge to those who still have manual data processes in place, which are time-intensive and often filled with errors.
In order to achieve higher efficiency, ensure traceability of data, and minimize human error, paper-based processes should be digitized and automated. Organizations need the ability to share data across enterprise applications to provide users with real-time access to the most updated information.
Don't let important files fall into the wrong hands. Adopting a digital document management system such as Canon EIP (Enterprise Imaging Platform), allows for the storage of documents on secure servers and streamlining of crucial processes. Canon's middleware platform based on Service Oriented Architecture (SOA) enables organizations to integrate enterprise applications with electronic and paper documents. Ways in which paperless processes are more secure include:
Set permission controls so that only authorized personnel can access certain files.
Automated document processes are far less likely to have errors, which may open security holes.
Encrypted data keeps hackers and other unauthorized third parties unable to read sensitive data.
In the case of a disaster, business will be functioning and productive with little-to-no down time.
Government requirements and regulations are always changing; forcing businesses to not only adhere to strict compliance guidelines, but also to store records for several years. With a document management system, the amount of documents you can store is limitless. Each document has a unique number, which automatically generates an audit trail. You can even make changes to documents while still keeping the original version.
Electronic signatures make it easier to conduct E-commerce transactions. Documents can be signed digitally using an iPad or a laptop and be sent back to central operations before the salesperson returns to the office. The documents then enter a workflow, guided by specialized software solutions such as Mi-Co E-forms, Canon EIP or RFgen Off-Network Mobility that automatically tracks forms, standardizes processes and makes it essentially impossible to lose track of a document. This assures your organization's policies and procedures adhere to regulatory guidelines.
If your company does business internationally, you will need multi-language and multi-currency capabilities that allow you to localize text fields, date formats and currency delivered by your enterprise systems and/or mobile applications. Even if you don't operate currently internationally, language translations are of top importance when considering doing so.
Agility is key when it comes to dealing with changes such as new compliance regulations, policies and mergers. Leveraging modern ERP solutions such as the JD Edwards ERP suite enables you to create and capture key business documents electronically, making them directly available from a user's desktop computer or mobile device. When information is automatically transferred to your ERP, it eliminates the need for back-office data entry. Easily index and retrieve electronic documents from mobile applications pertaining to purchase orders, teams work orders, service requests, etc. By linking enterprise applications to data from paper documents, a once complex process becomes automated.
Interested in learning more about going paperless? Looking to get colleagues on board? Read and share our Top 10 reasons to go paperless with ERP blog post and infographic.
WhiteLight Group helps organizations simplify, standardize, and optimize their ERP business processes in the areas of finance, procurement, manufacturing, capital asset management and supply chain. Automation results in smarter business decisions, cost savings and increased revenue. Our consultants are always up-to-date with their JD Edwards certifications and hold extensive experience in EnterpriseOne and World upgrades, implementations and global roll outs.
Learn more about our ERP solution offerings and implementation approach here.