April 29, 2015

whitelight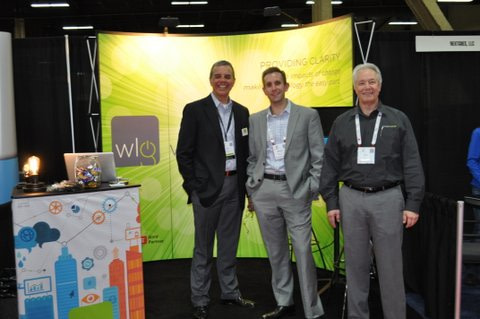 Earlier this month we had the pleasure of attending Collaborate15, a conference that brings together three of the key Oracle user group communities; the IOUG (Independent Oracle Users Group), the OAUG (Oracle Application Users Group) and Quest (PeopleSoft, JD Edwards).
It's an exciting time to be in the technology space, which was evident by the 1,200+ educational sessions ranging on topics from cloud and mobile strategy to the impact of big data and analytics. Keynote speakers included Oracle CEO Mark Hurd, Oracle CIO Mark Sunday, IBM's vice president of cloud platform development Tim Vanderham, and GSI CEO Kevin Herrig. The key theme was around embracing the "Modern Enterprise".
Whitelight Group was an exhibitor in the expo hall and we had many interesting conversations with other attendees. It seemed that most of the World customers we talked to were there to learn how to migrate from JD Edwards World to EnterpriseOne. There was also a lot of buzz around IoT (Internet of Things), but it seems with standards, security and company cultural issues, most people are still in the process of figuring it out.
ERP will continue to be a key component in this new digitized economy, as proven by the thriving worldwide market (North America, Latin America, Asia Pacific, EMEA). The vast majority of potential users are not people who sit at their desks anymore– it's field service workers, project site managers, mining workers, farmers, etc. These are all users who can benefit from sensor technology tied with data analytics.
Your ERP should represent the life cycle of your business and grow with it. Business now evolves far too quickly for competitive advantage to be completely sustainable. Unless you can see the future before it happens, the real secret to sustaining competitive advantage is knowing when it's time to quit or adapt.
The JDE Labs area was where the real fun was at. It's incredible that just one year ago we started talking about the Internet of Things and JD Edwards already has early adopter customers. Gary Greishaber, Vice President of Product Strategy Oracle Jd Edwards, said the AIS server and Integration Framework allowed them to develop 84 mobile apps and they are currently opening up JDE for smart watches and custom apps.
1. Wearables: Smart watches (Apple Watch and Samsung Gear) are a natural extension for ERP. Check out the unveil video above. Eventually and over time, vendors can work with Oracle MAF team to adopt APIs in the Oracle Mobile platform. For example, Canon EIP was able to develop a google glass app for warehouse operations. Download the JD Edwards wearable technology white paper here.
2. Trackable with Nearables: Locate assets and equipment using bluetooth technology. Nearables are able to track time for the surrounding environment. Think of it as automated time tracking.
3. Data discovery visualization dashboard. JDE has search capabilities built into its platform including QBE, Adv. Query and auto suggest. It will be able to discover patterns in data, including third party data.
EnterpriseOne end-user features include key enhancements to support the end-user experience, Oracle In-Memory database option, One View Reporting, System Administration, and Server Management. Updates include a UI redesign (colors, fonts, icons, etc.), improved menu navigation using "breadcrumbs", drag and drop capabilities and better collaboration with email and calendar integration. Users also enjoy simplified interface navigation, intended for users that only need limited access to a few apps. Look for more EnterpriseOne updates at Oracle OpenWorld.
Oracle made an official statement that they would continue to offer support for the World platform as long as there are customers using it, but EnterpriseOne is the more strategic and progressive Oracle investment right now because of the focus on mobility and analytics. Updates to EnterpriseOne include rental management, technology and regulatory.
JD Edwards World release A9.4 is now available and has a new Expense Management module. Additional enhancements related to the extended product line adhere to security and compliance. Stay tuned for more JD Edwards updates by following us on LinkedIn and Twitter.
WhiteLight Group partner Paul Demes presented a session called, "Transforming Culture – Paper to Mobile Apps – Real Life Story". Many conservative organizations have been operating with paper based processes as a way of life. Demes went over how new ERP customers in the manufacturing industry are using modern, mobile business applications to truly alter how their organization thinks and operates.
Demes addressed pain points such as the cost of maintaining data in non-ERP systems (Excel and Access), challenges in keeping paper copies up-to-date and the importance of real-time data capture over incremental updates.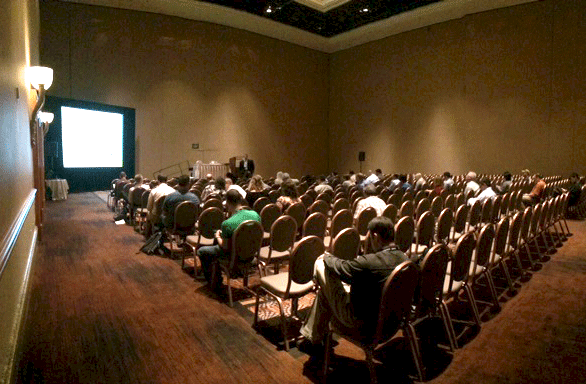 Shyam Nath, Architect for GE held a session about the use of the Oracle Business Intelligence toolset to utilize information from the IoT to add value, improve quality, monitor for service, etc.
Sensors are already embedded in devices all around us. The information from these sensors can be used for engineering and maintenance purposes to improve design, and anticipate maintenance service needs. Unlike the type of very structured database information that businesses are used to dealing with, this sensor data is in machine data format. Its high volume and cryptic format does not lend itself to the traditional normalized database model. As a result, the approach for collecting and managing this data is very different from the standard database model.
Use Case: GE currently collects sensor data from jet engines they manufacture for preventative maintenance and to improve their manufacturing process. The data is collected from sensors such as temperature and vibration level at various stages of operation such as take-off, ascent and cruise.
Oracle has created a toolset called Big Data, which works over the Hadoop reservoir. The tool allows an analyst to find trends, anomalies and outliers in large amounts of data. Sets of data can be saved in projects along with comments from the analyst. Data can also be joined with normalized databases to provide context to the raw unstructured data and/or generate new data elements based on one or more pieces of the raw data.
The goal of the Oracle Big Data toolset is to bring the analysis of raw data into the realm of the database analyst or subject matter expert. Definitely not an end user tool, it allows the database analyst to make sense of the data rather than relying on the very unique skills of the Data Scientist. Data Scientists have skillsets which are a combination of a statistician, a programmer and a database analyst. Businesses using Big Data are realizing a 20% increase in net profit.
Collaborate15 proved to be one of the most revealing and dynamic events in JD Edwards history. We learned how JD Edwards EnterpriseOne and World are poised to sustain modern solutions for the modern enterprise for many years to come.
Oracle continues to announce new products for both EnterpriseOne and World. In the last 6 months they released new applications for JD Edwards EnterpriseOne Mobile Applications, Rental Management, and applications that leverage Oracle's Database 12c In-Memory option. At COLLABORATE, they also announced World Release A9.4. These announcements can be found on the JD Edwards EnterpriseOne and World pages under What's New.
Their goal is to make upgrades a non-event—helping JD Edwards customers get to the latest and greatest releases is a key priority.
Additional information on product support can be found on the Applications Unlimited page. JD Edwards Product Roadmap information can be reviewed by Oracle customers on MyOracleSupport.
Collaborate15 was overall a highly valuable and insightful experience for the WhiteLight Group team. It was exciting to see JD Edwards shining in the spotlight and it seemed there was a larger JDE audience than usual–a good sign for those of us in the JDE ecosystem! A common complaint among attendees was the session planner's lack of user-friendliness, so hopefully next year's app will be improved upon. Speaking of which, Collaborate16 will be back at Mandalay Bay in Nevada April 10-14, 2016.
If you have any questions regarding the announcements mentioned in this content, we would be happy to discuss them with you. Contact us here and we will be in touch shortly.
The next major JD Edwards event is INFOCUS, taking place at the Sheraton in downtown Denver, Colorado August 17-19, 2015.